You won't find a neighborhood in Boston that hasn't been touched by the boom of residential development, and Back Bay is no exception. Located in the heart of the city along the lovely and meandering Charles River, Back Bay is arguably the city's most esteemed neighborhood. The rows of victorian brownstone homes, the cultural institutions, renowned shopping and iconic city landmarks make this neighborhood illustrious and highly desirable. So it's no surprise that Back Bay real estate is more expensive than any other in the city, and that condos for sale in Back Bay are a hot commodity. Luckily there's some pretty significant residential development happening in this posh neighborhood, which will give aspiring Back Bay residents more options and satisfy some of the demand. Here are the seven new construction buildings we have our eye on right now:
1. One Dalton
(Image source: http://www.bldup.com/projects/one-dalton)
The first building on the list is a doozy. Not only will One Dalton be the tallest residential tower in New England at 740 feet and 61 stories tall, but it will offer residents state of the art amenities and sweeping views of The Charles River and the Boston skyline. Here are the details (source: http://www.bldup.com/projects/one-dalton):
180 private luxury condominium residences on the upper floors
Amenities: lap pool, fitness center, salon with manicure, pedicure and hair styling services, private yoga and pilates studio, a golf simulator room with a wet bar and private theater room
A Private Residents' Club Lounge will feature a dining room, a lounge area, a fully appointed bar and catering kitchen and a terrace with views of The Charles River and Boston skyline
5,000 square foot park at ground level
A Four Seasons luxury hotel will comprise One Dalton's lower floors
Expected completion June 2018
2. Four51 Marlborough
(image source: http://www.bldup.com/projects/four51-marlborough)
Located on one of the most desirable residential streets in Boston, Four51 Marlborough has the historic charm of other Back Bay condos, but was built with modern luxury in mind. The boutique building is located just around the corner from some of the city's best shopping, restaurants and attractions. Only two of the 8 luxury condominiums remain, "Residence West" and "Three East." Specific building details include (source: http://www.bldup.com/projects/four51-marlborough):
Eight luxury condominium residences ranging from 2-5 bedrooms
Fine natural finishes as well as French balconies, direct elevator access and multiple sunlight exposures
Heated garage parking on site
Concierge service
3. 30 Dalton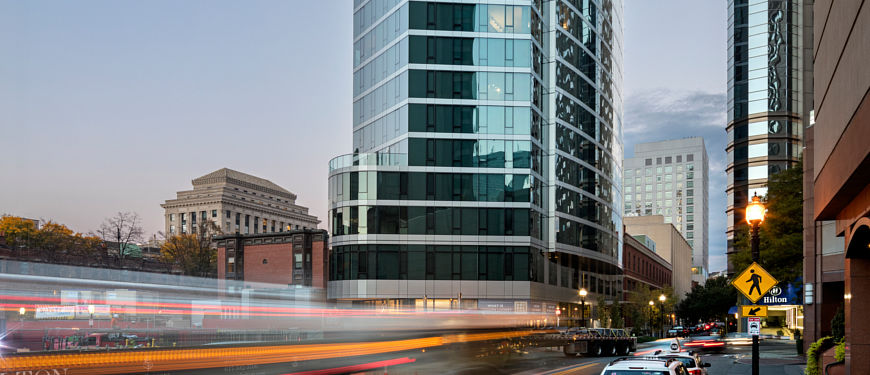 (Image Source: http://www.bldup.com/projects/30-dalton)
30 Dalton is a luxury rental building, but it's certainly worth mentioning for it's state-of-the-art finishes and sweeping views of Boston. With construction wrapping up in June of 2016, this building's towering facade is relatively new to the Back Bay skyline. 30 Dalton is "uniquely positioned at the nexus of the Back Bay, the South End and Fenway Cultural District" (source: http://www.30dalton.com/neighborhood/) and features:
218 luxury apartment residences
1-, 2-, and 3-bedroom residences with state of the art finishes
A common area on the top floor, known as The Skyline Suite, with a double-height common space featuring a caterer's kitchen, a fitness center, private dining and an outdoor terrace
Flour bakery has opened in 30 Dalton's ground-floor retail space
4. The Abbott
(Image source: http://abbottbackbay.com/#services)
Though this building has been around since 1872, it might as well be new construction with it's luxurious and modern finishes. This boutique building is located on the sunny side of a prime Back Bay block. Here's more information (source: http://abbottbackbay.com/#about):
A complete restoration and modernization of the 1872 Peabody and Sterns brownstone
Located at the corner of Marlborough and Exeter Streets
Eight units in total
Expected completion in late Summer 2017
Rental parking available
5. 474 Beacon
(Image source: www.zillow.com)
This new construction building in Back Bay is scheduled to be completed any day now, and features three units, two of which are still available. These Back Bay condos are overlooking The Charles River and include:
3 bed / 3 baths
Living rooms with southern exposure and gas fireplaces
Elevator access
Direct access to Tandem Garage parking
Expected completion May 2017
6. The Lydon
(Image Source: www.lydon.com)
Optimally located at 401 Beacon, the Lydon offers residents "a new level of style and sophistication in one of the most iconic and culturally sophisticated neighborhoods." Only one available unit remains, a 4 bed / 4 bath home with top of the line finishes and over 5,570 square feet. It also includes:
Two living levels
Direct elevator access
Two garage parking spaces
A daytime concierge
7. 237 Marlborough
We had to throw this new construction single family into the mix because it's sure to be one of the most magnificent homes in the neighborhood. Located on the sunny side of Marlborough street, this home is one of the best that Back Bay real estate has to offer. It's features include:
4-5 bedrooms
Elevator
2-car garage
Library
Fitness room
Au pair suite
High ceilings, beautiful moldings and elegant finishes
An oversized back deck with piped in grill
A large head house opening to a walk-out room deck complete with 2nd kitchen and city views
Back Bay offers residents and visitors a unique blend of historic charm and urban culture. But the same things that make it captivating also make it a somewhat difficult area for new construction. In order to preserve both the antiquity and metropolitan conveniences of the neighborhood, city officials must be discriminating about new development, resulting in fewer new condos for sale in Back Bay than other Boston neighborhoods. But these six new construction buildings have found their place in Back Bay, and they're giving buyers some elegant and alluring new options.
The Charles Realty has had its finger on the pulse of Boston real estate for 34 years. Our agents have unparalleled knowledge of the city and it's neighborhoods, and oftentimes have access to information not yet made public. For any questions about listings in the aforementioned buildings, other new projects in Boston, the status of projects, availability of new construction homes, or anything pertaining to Boston real estate, please contact us.