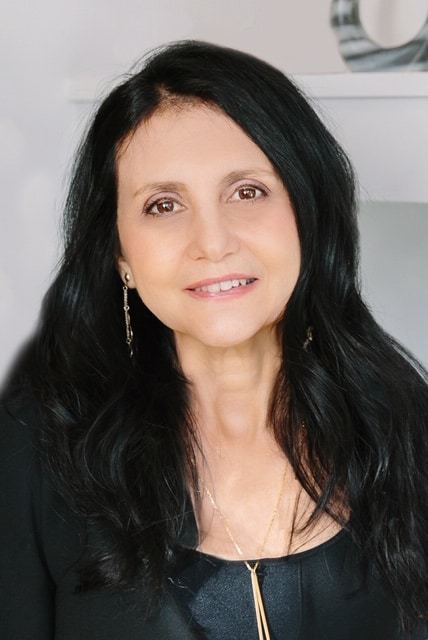 Annette is a Boston native who began her career as a paralegal for her father's established law firm. While working at the firm, Annette worked alongside many real estate agents and found herself intrigued by their work. She decided to pursue a real estate license and, after getting her footing in the industry, recognized the need for a full-service real estate agency willing to adapt to individual customer needs. In 1984, Annette founded The Charles Realty and became one of the few
[...]
Annette is a Boston native who began her career as a paralegal for her father's established law firm. While working at the firm, Annette worked alongside many real estate agents and found herself intrigued by their work. She decided to pursue a real estate license and, after getting her footing in the industry, recognized the need for a full-service real estate agency willing to adapt to individual customer needs. In 1984, Annette founded The Charles Realty and became one of the few female principles in the industry.
Under her guidance, The Charles Realty has achieved great success as an established industry leader in residential and commercial sales. It has grown from an agency with two brokers to twenty real estate professionals, some of whom have been with the company for more than twenty five years. The Charles Realty consistently creates highly effective sales strategies suited to the unique needs of each client, and as a result sales volumes have increased by as much as 30% each year. She applauds her loyal agents and is grateful to be working with such a talented, committed, and reputable team.

Sellers rely on Annette's superior ability to market and sell property in the Back Bay and beyond while buyers seek out her knowledge of market trends, property values, and sound investments. She has helped countless satisfied customers make profitable real estate decisions. She always has a positive attitude and pays careful attention to every detail involved in each transaction. Her philosophy is that stellar customer service is paramount in all situations. Annette has over thirty years of experience in real estate and prides herself on operating only with the highest professional standards. Her values also hold true for The Charles Realty.

For two terms over four years, Annette served on the Board of Directors for the Residential Division of the Greater Boston Real Estate Board. She currently serves on the Board of Directors for the Massachusetts Association of Realtors as well as various MAR committees, and has since 2008. Clients have complimented Annette on her accessibility, perseverance, and insights that are present throughout all interactions.

Annette supports St. Jude's Children's Research Hospital as well as many other charities. She applauds her loyal agents that have been with the company for as many as 25 years. She is grateful to be working with such a talented, committed, and reputable team.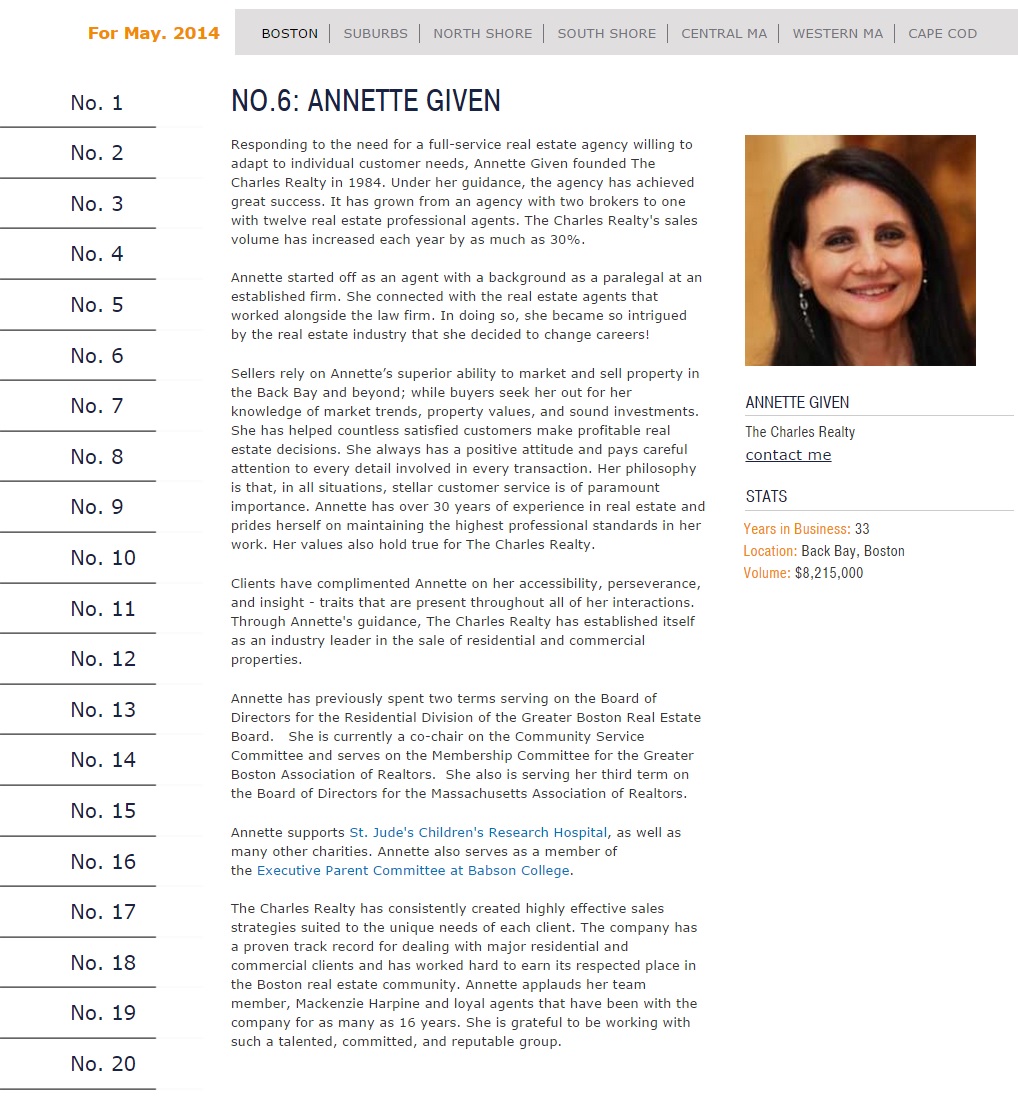 Office Location
257 Newbury Street
Boston, MA 02116
Contact Info
Specifications
Languages:
Specialties:
Service Area:
Annette's Testimonials
Annette will sell your property fast! She found me a good buyer, all cash offer, at my price who waived all contingencies; all before ever listing my home or even taking photos. If you need to move on, call Annette and The Charles Realty on Newbury Street.
Annette Given's 35 years of experience and passion for real estate is her office branding. Integrity, drive and commitment to serve is her standard for representation. When I explore the back bay real estate market, Annette is my first call.
It gives me great satisfaction to write a positive endorsement for Annette Given of The Charles Realty. As a first time home buyer, full of anxiety and completely native about the buying process, she assisted me in purchasing my first property in the South End in 2010. Her attentiveness to detail, exceptional client follow-through and intimate knowledge of the intricacies of the Boston real estate market helped make a smooth transitition to home ownership. I am fortunate to have found Annette [...]
Annette Given of The Charles Realty introduced me to Boston real estate two years ago and in that time I've come to appreciate it very much. Long story shore, I'm currently in the process of purchasing my fourth property in Boston in as much time.
The Charles Realty has been in business for 36 years. The team is always professional, ethical and efficient. They have an amazing grasp on the current market. Even in a less than great market they are able to complete transactions that one can only hope for. They have an extensive knowledge of the Boston market and the surrounding areas. They are a team you can trust. I highly recommend them for any of your real estate needs.
I have no doubt that had I not been with Annette and her team I would have had a very different outcome from this experience, and much less favorable one for sure. Annette and the entire team were awesome, from start to finish. I trusted them completely, and they did not steer me wrong. I am very very pleased!!
We feel so lucky to have been able to purchase our first home with Annette and her amazing team - their guidance, discipline, expertise and extreme generosity made this such a pleasant experience and for that we are eternally grateful!! Cannot recommend Annette and her team enough!!!
Working with Annette was a fantastic experience. She listened to our needs and helped us narrow in on a town. Her relationships with other realtors were a fantastic asset. She is well respected and well liked which allowed her to get home showings in a short amount of time and helped secure  our offer on our dream home. We wouldn't use anyone else! It's a homerun with Annette!
Annette is experienced, knowledgeable, attentive and obviously respected in the community. I enjoyed working with her and really felt like I was in good hands - she knows her way around the Boston residential real estate market.
Annette's long standing experience in the Back Bay and the time she takes to fully understand you're buying considerations, simplifies the process of finding property. She and her team are so responsive, dedicated, and truly enjoyable to work with!
Contact
Hi there! How can we help you?
Contact us using the form below or give us a call.
Hi there! How can we help you?
Contact us using the form below or give us a call.