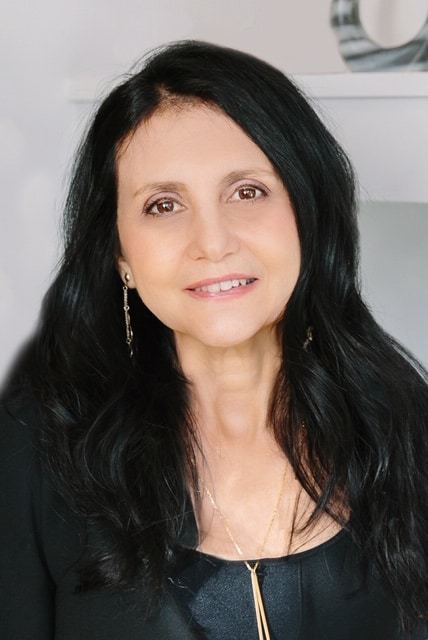 Annette is a Boston native who began her career as a paralegal for her father's established law firm. While working at the firm, Annette worked alongside many real estate agents and found herself intrigued by their work. She decided to pursue a real estate license and, after getting her footing in the industry, recognized the need for a full-service real estate agency willing to adapt to individual customer needs. In 1984, Annette founded The Charles Realty and became one of the few
[...]
Annette is a Boston native who began her career as a paralegal for her father's established law firm. While working at the firm, Annette worked alongside many real estate agents and found herself intrigued by their work. She decided to pursue a real estate license and, after getting her footing in the industry, recognized the need for a full-service real estate agency willing to adapt to individual customer needs. In 1984, Annette founded The Charles Realty and became one of the few female principles in the industry.
Under her guidance, The Charles Realty has achieved great success as an established industry leader in residential and commercial sales. It has grown from an agency with two brokers to twenty real estate professionals, some of whom have been with the company for more than twenty five years. The Charles Realty consistently creates highly effective sales strategies suited to the unique needs of each client, and as a result sales volumes have increased by as much as 30% each year. She applauds her loyal agents and is grateful to be working with such a talented, committed, and reputable team.

Sellers rely on Annette's superior ability to market and sell property in the Back Bay and beyond while buyers seek out her knowledge of market trends, property values, and sound investments. She has helped countless satisfied customers make profitable real estate decisions. She always has a positive attitude and pays careful attention to every detail involved in each transaction. Her philosophy is that stellar customer service is paramount in all situations. Annette has over thirty years of experience in real estate and prides herself on operating only with the highest professional standards. Her values also hold true for The Charles Realty.

For two terms over four years, Annette served on the Board of Directors for the Residential Division of the Greater Boston Real Estate Board. She currently serves on the Board of Directors for the Massachusetts Association of Realtors as well as various MAR committees, and has since 2008. Clients have complimented Annette on her accessibility, perseverance, and insights that are present throughout all interactions.

Annette supports St. Jude's Children's Research Hospital as well as many other charities. She applauds her loyal agents that have been with the company for as many as 25 years. She is grateful to be working with such a talented, committed, and reputable team.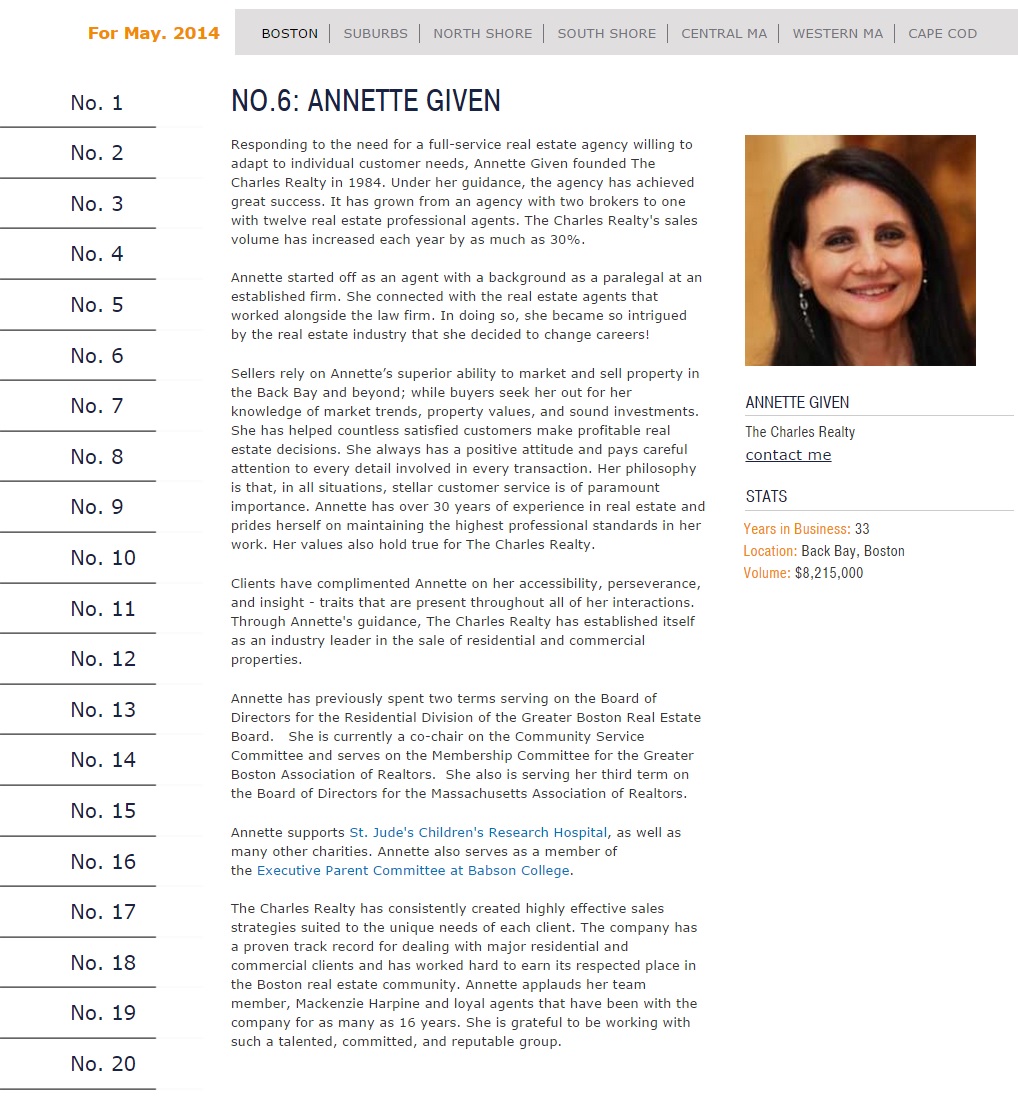 Office Location
257 Newbury Street
Boston, MA 02116
Contact Info
Specifications
Languages:
Specialties:
Service Area:
Annette's Testimonials
The whole team at The Charles Realty were amazing, attentive and quick to respond to each and every request. Right from the start my inquiry about the property was met with all details requested, and I felt immediately this team was honest and so helpful that I did not require a buyer's agent to help handle the whole process. As buying process continued until unit renovations were completed, Annette, Peter and Mackenzie were keeping me up-to-date on all progress and made me feel as if they [...]
We had a great experience with Annette and her entire capable and friendly team! We started with two full days touring homes in Newton, Brookline, Wellesely, and Winchester. They were very generous with their time and helped to narrow our choices in an educated and thoughtful way.
Annette Given's 35 years of experience and passion for real estate is her office branding. Integrity, drive and commitment to serve is her standard for representation. When I explore the back bay real estate market, Annette is my first call.
We have bought and sold many properties and have never been more pleased with an agent. Annette was extremely knowledgeable about the current homes available, the characteristics of each neighborhood we were considering and the pricing of each location. She was happy to show us anything we were interested in and took as much time as we needed. She expertly guided us through the offer process. She knows EVERYONE in the business from bankers to repair men. Best of all she is a very kind and [...]
Annette is a consummate professional. She is extremely knowledgeable about Boston real estate, its trends and very adept in negotiating between parties. What I appreciate most is her personal approach and partnership. I always feel that she is my advocate and provides practical, professional and honest  advice throughout every step of the process which is extremely comforting during real estate searches & transactions. In my opinion, she is simply the best partner you can have.
Our family has a long-standing history of buying and selling property with Annette and my husband and I got our first property from her in 1998. Since then, she has stayed in touch and has really impressed us with her ability to always follow through and get a job done well. She never settles for anything but the very best for her clients and her knowledge properties in the Boston market is unparalleled. In addition, she has created a very pleasant office with a friendly atmosphere. They [...]
Annette and her team found us a fabulous condo in Back Bay and sold our previous home in Brookline for significantly more than our asking price. Annette and Franca were instrumental in negotiating with prospective buyers in Brookline. They are extremely knowledgeable about real estate in the Back Bay and were able to find us the perfect home.
We feel so lucky to have been able to purchase our first home with Annette and her amazing team - their guidance, discipline, expertise and extreme generosity made this such a pleasant experience and for that we are eternally grateful!! Cannot recommend Annette and her team enough!!!
I have no doubt that had I not been with Annette and her team I would have had a very different outcome from this experience, and much less favorable one for sure. Annette and the entire team were awesome, from start to finish. I trusted them completely, and they did not steer me wrong. I am very very pleased!!
I first met Annette 24 years ago. She was my realtor when I bought my Back Bay condo. Over the years, she kept in touch sending me newsletters about the Charles Realty - which continued to grow in reputation, and become a premier realtor in Boston. Fast forward to this autumn when it was time  to sell my condo. I contacted Annette who remembered me and my unit. It was wonderful to see her and to catch up after all those years. She and her team did an amazing job for me - they sold my condo at [...]
Contact
Hi there! How can we help you?
Contact us using the form below or give us a call.
Hi there! How can we help you?
Contact us using the form below or give us a call.